VW「新型クラフター2017」公式ローンチムービー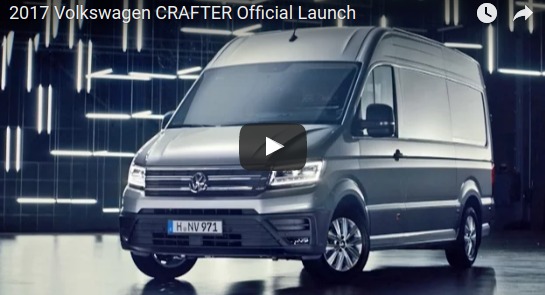 2017 Volkswagen CRAFTER Official Launch   …YouCar

In the front-wheel drive version, the new Volkswagen Crafter offers a maximum cargo capacity of 18.4 m3 with a permissible gross weight of 3.0 – 4.0 t. The cargo width between wheel arches of 1,380 mm and a maximum cargo compartment length of 4,855 mm give it the best package dimensions of its vehicle class. Loading the new Crafter is easy thanks to the 1,311 mm opening of the sliding door, a minimal sill height of 570 mm on the front-wheel drive versions and optional 270° opening of the rear doors. The new Crafter offers an ingenious solution for securing loads: the cargo can be secured "from all sides" in the most literal meaning of the words. Anchor tracks in the form of patented airline profiles are integrated on the sidewalls, the partition wall, in the roof and in the floor.
The driver assistance systems available for the new Crafter offer additional convenience and associafigured for the new Crafter with respect to the "tough" requirements of a commercial vehicle. They are very reliable engines and are designed for both short-distance and long-distance transportation. The 2.0l TDI engine, the "EA 288 Commercial", which was further developed for the Crafter, is available with front-wheel drive at three different power output levels for EU6 markets: 75 kW (102 HP), 103 kW (140 HP) or as a BiTurbo TDI with 130 kW (177 HP). The 1,968 cc TDI engine is installed transversely, and it is inclined eight degrees towards the front, which results in shorter equipment length and thereby provides more space for the driver and payload. All engines fulfil the EU6 emissions standard, and they have a stop-start system as standard. Overall, they are 15% per cent more fuel-efficient on average. The new Crafter also scores with its ruggedness and low wear, maintenance and repair costs, all of which have a positive effect on total cost of ownership (TCO) over the vehicle's life cycle.
Pre-sales of the new Crafter begin in November 2016.
From around mid-2017, the powertrains on offer will be supplemented by the 4MOTION all-wheel drive system with a transversely mounted engine and the rear-wheel drive system with a longitudinally mounted engine.