ホンダ「シビックSi Coupe / Sedan」デザインレビュー動画【YOUCAR篇】
Honda Civic Si (2017) Coupe or Sedan? [YOUCAR]   …YOUCAR

Powering the 2017 Honda Civic Si is a high-performance, high-torque 1.5-liter, directed-injected and turbocharged DOHC in-line 4-cylinder engine with dual variable cam timing (dual VTC). Mated to a short-throw, 6-speed manual transmission, the powertrain provides a thrilling new driving experience with more low-end grunt and increased torque output across the engine's full rev range compared to the previous Si. Peak horsepower of 205 horsepower arrives 1300 rpm lower in the rev range, and the increased peak torque of 192 lb-ft (+18 lb-ft) is produced 2300 rpm earlier and sustained over 70 percent of the rev range.
Allowing full utilization of the powertrain, the 2017 Civic Si is significantly lighter than the previous generation model and features a more rigid body including highly upgraded chassis and drive components. These upgrades include a dual-pinion adaptive electric power steering system with variable ratios, sport-tuned suspension, an adaptive damper system, a helical limited-slip differential, larger 12.3-inch front brake rotors and wider 235/40 R18 tires with a performance tire option. In addition to adaptive dampers, suspension upgrades include stiffer spring rates, more rigid stabilizer bars (+30 percent front, +60 percent rear), solid front and rear compliance bushings, and ultra-rigid front upper control arms shared with the Civic Type R.
Allowing the driver to choose vehicle power and chassis dynamic characteristics according to their tastes and the driving environment, the 2017 Civic Si now features two driving mode options: Normal and Sport. From the more comfort-oriented yet well controlled default Normal Mode, the Sport Mode adjusts the suspension damping characteristics plus steering and throttle response for a more taut and direct driving experience.
The 2017 Civic Si Coupe and Sedan for the U.S. market will be produced at Honda's plant in Ontario, Canada, using domestic and globally sourced parts. Its engine is produced in Anna, Ohio using domestic and globally sourced parts, at the largest automobile engine plant in Honda's global production network.
ホンダ「新型Civic Si Coupe 2017」発表;公式デザイン画像集!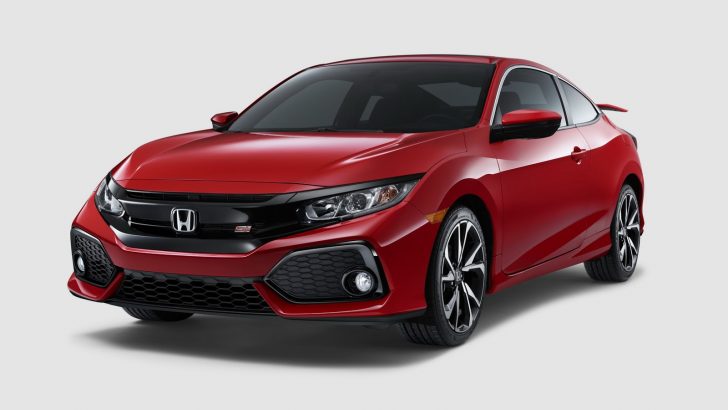 ホンダ「新型Civic Si Sedan 2017」発表;公式デザイン画像集!